Judging quality in fresh fruits and vegetables was never an easy task. Today, given the amount of adulteration, procuring quality food has become near impossible. This has made measuring quality-related attributes vital because they help control quality.
How do you define fresh produce quality? It is the degree of excellence in a fruit or vegetable. So, a tomato is of better quality when it is superior in one or several attributes.
This brings us to the quality attributes, which are 4 – appearance, flavor, texture, and nutritional value.
Traditionally these quality attributes are measured manually, which makes them subjective. For instance, if you have to judge a tomato's quality, you'll depend upon hands, eyes, nose, and gut feeling.
This process is not only grossly inaccurate but also reliant on personal preferences. Include factors like environment, cultural practices, agrichemicals, government policies, etc. and manual assessment leads to wide-ranging and erroneous evaluations.
New, Accurate Ways to Assess Fresh Produce Quality
The modern, Intello approach to assessing fresh produce quality relies on technology.
Popularly they are called objective methods because they scientifically test each quality attribute.
These new methods not only imitate the way humans test the fresh produce but also measure fundamental properties and combine them mathematically to categorize quality faster and more efficiently.
So, when you digitize fresh produce quality assessments with us, you reduce variation in evaluation, make it more competent and far more scalable.
Digitizing fresh produce quality is essential
Accuracy, efficiency, and scalability are all great, but that doesn't make digitizing all but mandatory.
Fruits and vegetables have a diverse array of constituents, such as acids, sugars, water content, and oil content. These cannot be tested subjectively. They require a new-age methodology to measure quality.
And that makes the modern, Intello approach to assessing fresh produce quality necessary.
That you also get benefits like portability, reduced need for skilled labor, verifiable ways to check, and take actions with our tech-based methods is incidental.
Now that the how and the why are clear, let's unpack the what.
Intello Labs has been changing the traditional methods of quality control in fresh produce for the past four years. Using four digital solutions, we've made it more streamlined, precise and systematic.
Intello Track
The main criterion for every purchase decision in fresh fruits and vegetables is how they appear.
So, the first solution Intello Labs built was an image-based technology. It assesses quality based on features like proper size, shape, form, color, condition, and number of defects.
You input an arbitrary image, and through computer vision and a deep learning algorithm, individual units of the fruit and/or vegetable in the image are identified. It then detects contours on their surface and objectively grades good quality vs. bad quality.
Weight– Based
For several freshly harvested fruits and vegetables, weight-based technology is the only precise way to assess quality.
For such fresh produce, like coconut, we created a solution that detects the water-content with 94% accuracy.
How does Intello's weight-based tech work?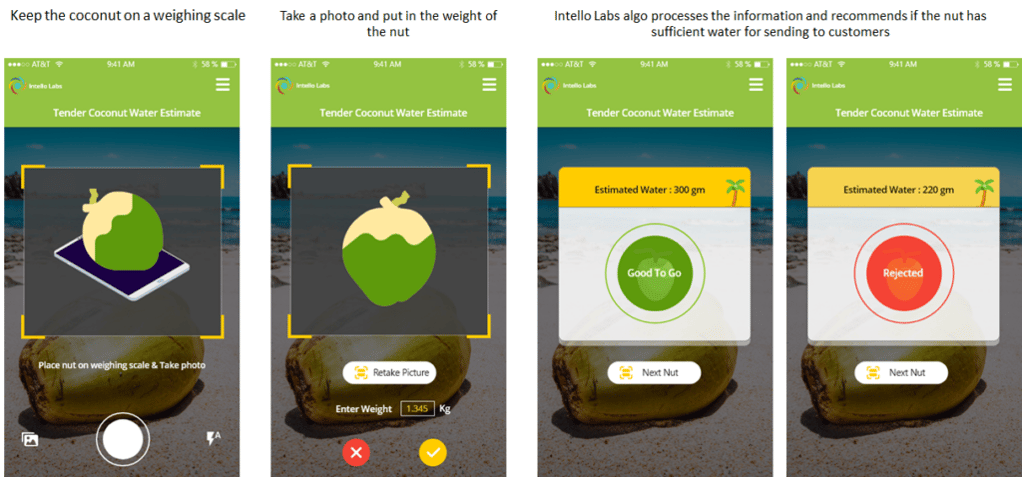 Sound-Based
To check for ripeness in fruits like watermelon, you need highly skilled labor. This is costly and more often than not imprecise.
Intello Labs' sound spectrum analysis is an objective, cost-friendly, and precise alternative. The sound-based technology analyses the maturity and ripeness of fruits such as durian and watermelon through vibration response.
Thumping or tapping the fruit gives off acoustic signals, which are collected via microphones on mobile devices to identify maturity or ripeness automatically.
How does Intello's sound-based tech work?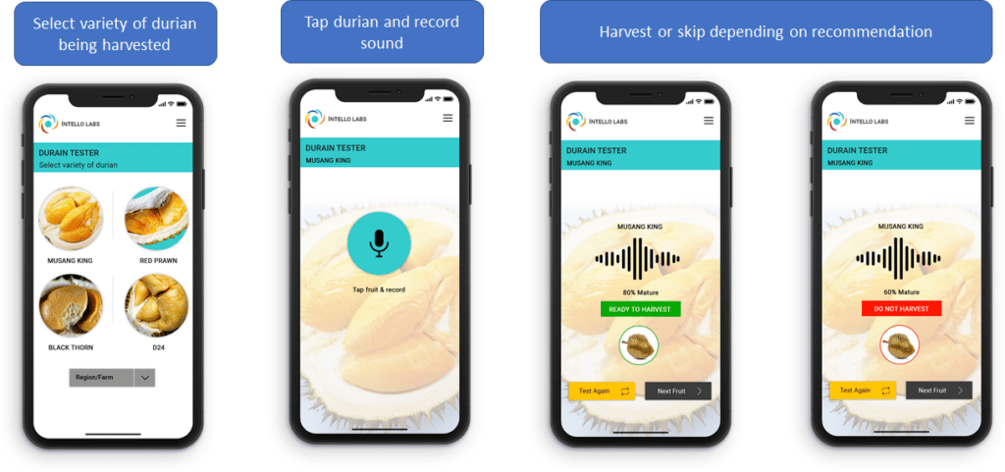 Intello Deep
Detecting the internal quality of fruits and vegetables is complicated. Checking chemical properties like sugar content, pH, TSS, dry matter, moisture, pesticide residue, etc. requires destructive manual methods.
Intello Labs' sensor-based technology allows internal assessment through Near-Infrared Spectroscopy (NIR). It is a non-destructive method of quality check.
Given that fresh produce is perishable and a substantial proportion is lost from farm to shelf, our handheld scanner, IntelloDeep, is priceless.
It comes with a starter model for testing total soluble sugar or °Brix (a unit of measuring soluble solids in fresh produce).
The tool can also assess color, acidity, and dry matter, all within a few seconds. Plus, the device is portable, making it usable at every stage of the supply chain.
A Last Word
Manually evaluating quality in fresh fruits and vegetables is like running an obstacle course. You cross one hurdle, and another one is right there.
That's why Intello Labs has been working on changing the set paradigm.
From traditional to modern, we are slowly moving the world of fresh produce towards a faster and more accurate quality assessments path that gives you the best of two worlds – science + experience.
---